Product Description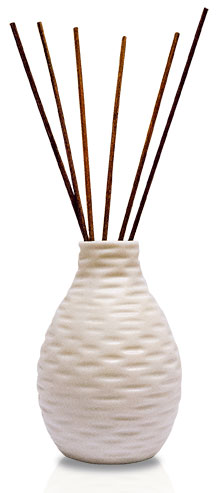 ---
PRODUCT DESCRIPTION
Each fragrance has its own history, using air freshener aroma & more you can bring back the most beautiful memories. The fragrance released by bamboo sticks will envelop your home with pleasant scent.
---
PREPARATION AND USE
Open the bottle and pour its contents into the porcelain diffuser. Place the bamboo sticks into the diffuser arranging them as you wish. The bamboo sticks, while gradually absorbing the essence, will release its fragrance. Place the diffuser in a safe and stable place to avoid spilling its contents out.
The intensity and longevity of the fragrance depends on the place the diffuser is put, air circulation and the size of the room. Placing the diffuser near heat sources (heater, fire-place, sunny window) may lead to a quicker than expected release of the fragrance. It is recommended to turn the sticks upside down once a week.
---
WARNINGS FOR SAFETY
Flammable liquid and vapour. Causes skin irritation. May cause an allergic skin reaction. Causes serious eye irritation. Keep out of reach of children. Do not get in eyes, on skin, or on clothing. If swallowed: Immediately call a POISON CENTER or doctor/physician. IF IN EYES: Rinse cautiously with water for several minutes. Remove contact lenses, if present and easy to do. Continue rinsing.
---
THE STORAGE CONDITIONS
Store in dry place at a temperature of 5-25°C. Protect from freezing. Protect from direct sunlight.