Product Description
---
PRODUCT DESCRIPTION
Super-concentrated laundry capsules filled with the active powder – a quick and convenient solution to ease our daily workload. A modern form of traditional washing powder. The capsules contain active ingredients designed to help at the different stages of washing. Effective dirt removal Anionic and non-ionic surfactants, soap – for an effective wash and support in removing fatty and greasy grime. Bleaching agents using active oxygen – to help in the removal of those most stubborn stains. Active system of enzymes (amylase, protease, mannanase, pectinase), highly effective in removing stains. The individual enzymes help remove the following types of grime: starch (potatoes, pasta), protein (meat, blood), mannanase (ice cream, sauces, cosmetics), and plant (fruits, vegetables). Protecting the natural whites and colours Optical Brightener – helps to restore the natural whiteness, so your clothes regain their original brilliance. Colour protection system – prevents the bleeding of colours during the washing process. Cellulase – protects fabrics against pilling to ensure your clothes retain their new look for longer. Using the laundry detergent capsules means you do not have to calculate the dose for the washing cycle.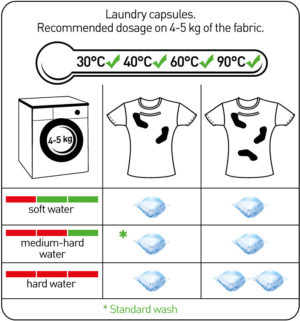 ---
PREPARATION AND USE
Place a laundry capsule into an empty drum, then put in the selected laundry. Run the relevant washing cycle. Always follow the instructions of the producers of fabrics. Do not touch the capsule with wet hands. Do not use the product with a pre-wash and for handwashing. Do not use for wool and silk.
---
WARNINGS FOR SAFETY
Warning. Causes serious eye irritation. Keep out of reach of children. Wash hands thoroughly after use. IF IN EYES: Rinse cautiously with water for several minutes. Remove contact lenses, if present and easy to do. Continue rinsing. Immediately call a POISON CENTER/doctor. If medical advice is needed, have product container or label at hand.
---
THE STORAGE CONDITIONS
Store in a dry place at the temperature of 5-25°C. Protect from freezing and direct sun exposure.