Product Description
OXO laundry capsules for newborn and children's clothes – your aid in everyday washing of nappies, underwear and clothes of your child. An innovative concentrated formula based only on delicate surfactants and natural soap – designed for the delicate skin of a child. The product does not contain any irritating ingredients: allergens, enzymes, preservatives, dyes or optical brighteners, which settle on the washed fabric and may irritate the skin of a child. Dermatologically tested. The capsules are free of phosphates – they are environmentally friendly. Ease of use, comfortable application and clean clothes effect with a minimal dose of surfactants.
---
Directions for use: Place a laundry capsule into an empty drum, then put in the selected laundry. Run the relevant washing cycle. Always follow the instructions of the producers of fabrics. Do not touch the capsule with wet hands. Do not use the product with a pre-wash and for handwashing. Do not use for wool and silk.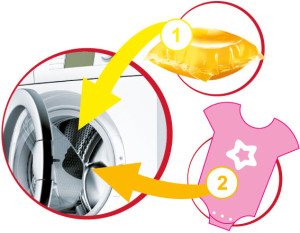 ---
Warning. Causes serious eye irritation. Causes skin irritation. Keep out of reach of children. IF SWALLOWED: rinse mouth. Do NOT induce vomiting. Immediately call a POISON CENTER /doctor. IF ON SKIN: Wash with plenty of water. IF IN EYES: Rinse cautiously with water for several minutes. Remove contact lenses, if present and easy to do. Continue rinsing. If eye irritation persists: Get medical advice/attention. If medical advice is needed, have product container or label at hand.
---
Storage: Store in dry place at a temperature of 5,0-25,0°C. Protect from freezing. Protect from direct sunlight. Best before 3 years from a production date given on a packaging.
---
The product has a positive opinion of the Institute of Mother and Child no OP-ZF/206/K-35/14