Product Description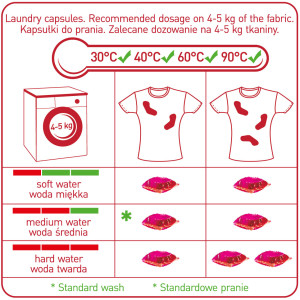 OXO laundry capsules for dark and black clothes – an innovative formula of dark and black fabrics protection. It effectively removes stains to the benefit of your favourite clothes. The formula with colour protection effect prevents fading and migration of dyes, assuring the intensity of black and dark clothes. Thanks to cellulases, even the grey fabrics will regain their original glow. The capsules are free of phosphates – they are environmentally-friendly.
---
Directions for use: Place a laundry capsule into an empty drum, then put in the selected laundry. Run the relevant washing cycle. Always follow the instructions of the producers of fabrics. Do not touch the capsule with wet hands. Do not use the product with a pre-wash and for handwashing. Do not use for wool and silk.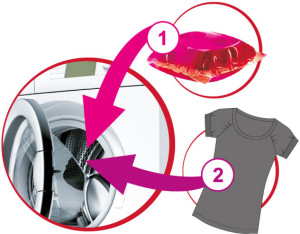 ---
Warning. Causes serious eye irritation. Causes skin irritation. Keep out of reach of children. IF SWALLOWED: rinse mouth. Do NOT induce vomiting. Immediately call a POISON CENTER /doctor. IF ON SKIN: Wash with plenty of water. IF IN EYES: Rinse cautiously with water for several minutes. Remove contact lenses, if present and easy to do. Continue rinsing. If eye irritation persists: Get medical advice/attention. If medical advice is needed, have product container or label at hand. Contains reaction mass of: 5-chloro-2-methyl-4-isothiazolin-3-one [EC no. 247-500-7] and 2-methyl-2H-isothiazol-3-one [EC no. 220-239-6] (3:1). May produce an allergic reaction.
---
Storage: Store in dry place at a temperature of 5,0-25,0°C. Protect from freezing. Protect from direct sunlight. Best before 3 years from a production date given on a packaging.