Product Description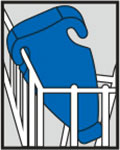 Dishwasher cleaner removes grease and limescale in hard accessible places that ensure the right running of the dishwasher. Use regularly to make a life of the dishwasher longer.
---
Directions for use: Empty the dishwasher. Peel away the label on the cap and discard. DO NOT REMOVE THE CAP. Place the bottle upside down in the cutlery basket or in a secure position. Run a normal wash programme 65°C.
---
Notice: For best results use once a month. Do not use the cleaner with other detergents. Apply for empty dishwasher. Product for dishwashers only.
---

Warning. Irritating to eyes. Keep out of the reach of children. Contaminated eyes rinse immediately with plenty of water and seek medical advice. If swallowed, seek medical advice – show this container or label. Discard bottle in safe way. Widely recycled bottle if empty.
---
Storage conditions: Store in a cool and a dry place. Keep out of the reach of sunbeams.